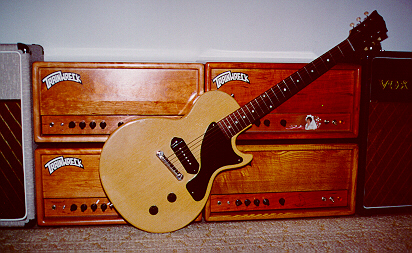 The Site
By the time Ken became aware of the internet, Greg Siegel had registered the Trainwreck.com domain. Siegel didn't know Ken but it was a decent tribute site. Ken had his trustworthy old friend Bill Holter register trainwreckamps.com to hold the domain.
Ken took over Trainwreck.com after Siegel's registration expired. Ken didn't know anything about making websites. I had been Ken's on-line presence for a couple of years, mostly keeping bogus combo's off of eBay, so we figured I was the most suitable person to make the website. I'm Stephen Silbert. I met Ken in 1984.
Ken suggested I work with Bill on the site. I contacted Bill and he contributed some graphics. Due to stylistic/technical differences and logistics, I failed to get Bill more involved. Bill has since put some beautiful work into trainwreckamps.com. Check it out!
The Webmaster
I built half of a Trainwreck Liverpool. Though I had plenty of experience working on amps and Ken told me exactly what to do, it didn't sound like other Liverpools. It was the most aggressive Liverpool ever made. Ken attributed that to my personality as he had enjoyed a punk rock band I used to play in (Ken was not a big punk rock fan). Ken tweaked the amp and deemed it a true 'wreck.
I also built a "Little Monster". The Little Monster was a design Ken came up with for a 6 to 12 watt amp with lots of gain. As far as I know there are either 2 or 3 in existence.
Ken didn't have a computer until 2006 and he never got it on-line, regardless of the pressure his friends put on him to do so. I continued to police eBay and I've been doing it for quite a few years now.
eBay has rules against using the Trainwreck name in your auction if you're not selling a Trainwreck. If you're not selling something Trainwreck or Trainwreck engineered, save yourself the listing fee and trouble: don't mention Trainwreck.
If you have any questions, feel free to contact me via email: Stephen at Trainwreck.com.
Site Credits:
Logo graphic created by Bill Holter.
Home: Picture of Ken courtesy of Charles Daughtry.
Trainwreck Sound Clips: Picture supplied by Greg Siegel.
Trainwreck Pictures: Supplied by Greg Siegel, the first webmaster of Trainwreck.com.
FAQ: Picture of cat on amp supplied by Greg Siegel.
Trainwreck Combo's: Pictures supplied by Greg Siegel and Jennifer Percy.
About this Site: Picture of guitar and amps supplied by Greg Siegel.
Clones: Picture courtesy of www.yankees2000.com